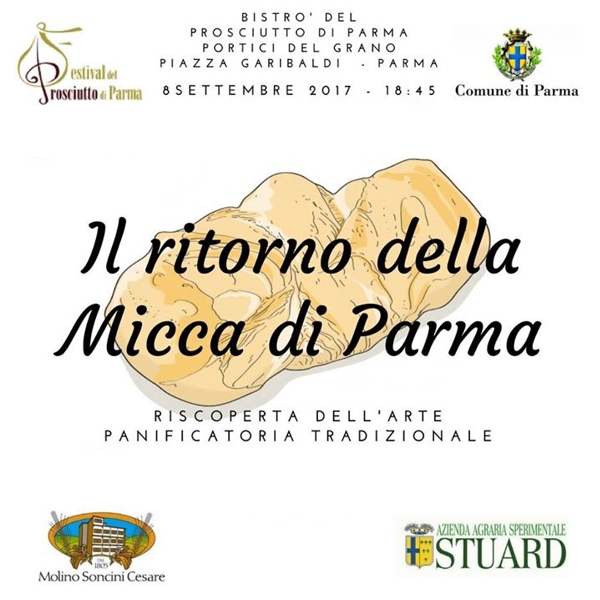 Traditional Grains
---
The importance of tradition, concern for our raw materials, and the knowledge of the most agricultural experts available are the base of the project that Molino Soncini Cesare and Azienda Agraria Sperimentale Stuard si have commenced together, called Traditional Grains.

the Micca di Parma: an excellent but little-known product, a genuine local treasure that we want to restore to its former glory. This is one of the project's aims, together with the development of the wheat industry and support for the agricultural companies based in our area.

From early 2017, Molino Soncini Cesare and Stuard identified, selected and preserved 10 different historical varieties of wheat. After a careful agronomic evaluation, we started production with standard methods and acidic fermentation.

The project phases - from the production of the wheat for milling to its careful storage, from the close attention to the cultivation techniques to the final evaluation - involved the work of eight bread-makers, 30 different agricultural companies from the province of Parma, and a warehousing facility. Molino Soncini Cesare and Stuard supplied technical assistance in every phase.

The short supply-chain thus created helped to realise a research project entirely dedicated to the use of ancient variaties of wheat in bread-making, creating an agronomic system perfectly suited to the production of the Micca di Parma.

The final evaluation - of visual, smell and taste - took into account all the basic variables: from the era of milling from above, to concern for the environment and resistance to disease. The test panel considered humidity, yield and production characteristics, such that the final smell and taste of the Micca can only be defined as "excellent".

The Traditional Grains project respects the past and looks to the future at the same time, bringing technology and tradition together, with one central objective in mind: to rediscover and develop the Micca, a bread that is precious and simple at the same time, an integral part of the city of Parma its surrounding area.